OVER Two Decades
Founded in 1999 by Sam Abbey and Chris Smither (the "S" and the "C") SC Builders is a mid-sized, financially solid, commercial general contractor. In 2019, we celebrated our 20th anniversary.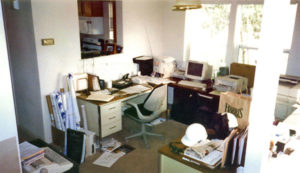 Sam and Chris have backgrounds working for large construction firms which, to them, seemed overgrown and not focused on people and relationships. Being naturally entrepreneurial people with positivity and grit, Sam and Chris formed SC Builders with the intention of a lean firm focused on long-term relationships and on taking care of their clients and staff: hire the best, get out of their way, and reward them well.
We're passionate about building innovative projects, long-term client relationships, and thriving careers.
---
We Are Builders First
We don't hire ordinary people. We don't deliver ordinary work. We don't want to be the biggest. We want to be the best.
More than 87% of our business comes from repeat clients and referrals—a testament to our ability to deliver complex projects within budget and on schedule. We build for the top technology firms in the Bay Area and beyond, as well as mission critical, life science, and institutional clients.
We empower and challenge our people as they build ambitious projects for extraordinary clients.
---
Our People: Join Us!
We are always looking for outstanding new team members. We are passionate about building, and we do everything we can to maintain a culture that supports people who are awesome builders. Our teams are lean, well-oiled machines of smart people who respect each other. We are flat-structured, non-political, relationship-driven, empowering, and just the right size to grow your career.
Want to be personally responsible for making a raving fan out of every client? Join us!