Happy Holidays
December 2018
Happy Holidays to our extended family! To you and yours: may your holidays be warm and bright.
Cheers to continuing to grow Strong, Smart, Unique and Positive in 2019—as we celebrate 20 years of SC Builders!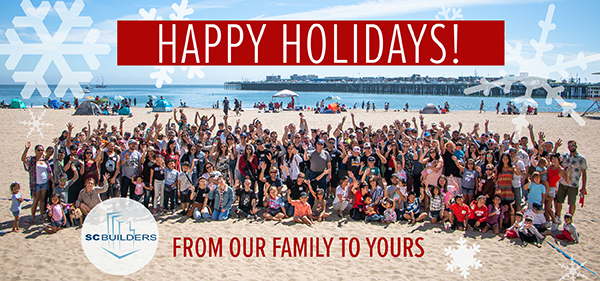 ---
Holiday Party
December 2018
Wonderful team, beautiful venue, festive atmosphere at our holiday party! Together we celebrated an outstanding year as well as several anniversary milestones.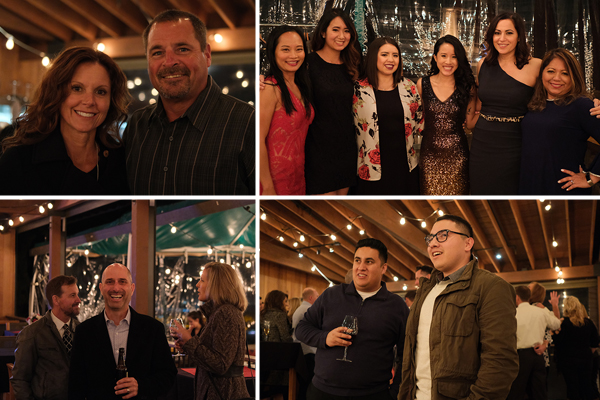 ---
Support for Family Giving Tree
December 2018
Thank you to our SC Builders team for supporting Family Giving Tree, which fulfills the holiday wishes of 80,000 under-served individuals in the Bay Area. Together our team bought 50 gifts and donated $2,896.
The season of giving continued as a few of our staff volunteered at the Family Giving Tree warehouse, wrapping some of the holiday wishes bought by the SC Builders team and so many others in the Bay. We practice our core value "Give back to the community through volunteering time, money, and resources" year-round, but the holidays are certainly a time to step up our game.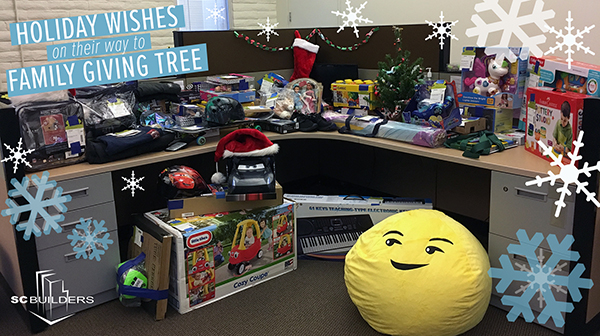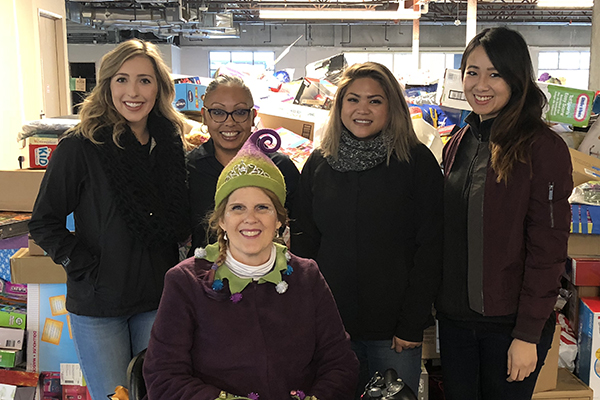 ---
How SC Gives Back — a feature by our partners at BuildingConnected
December 2018
Many thanks to precon bid software pros BuildingConnected for shining a spotlight on giving back, and for allowing us to share this key part of our culture. Our industry exists to build our communities, and giving back is an extension of that passion: it's an investment in our community.
Read the blog post here to learn more about all the ways SC Builders gives back throughout the year. Thank you to our staff, subs, clients, and extended families for helping us serve our communities!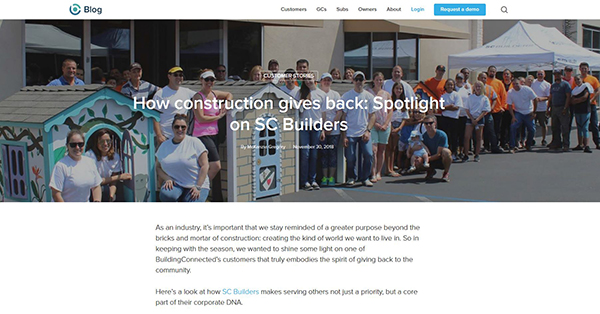 ---
Wildcats Rise Fire Recovery Fund
November 2018
Chico is a pretty special place to SC Builders. When Chico State established the Wildcats Rise Fire Recovery Fund to allocate financial resources to those directly impacted by the Camp Fire, SC Builders created our own fundraising team to contribute to this fund.
So far, we've exceeded our $10,000 goal by over 50%! As of this writing, we've raised $17,025, which includes matching donations by SC Builders.
Donations will support students, faculty, and staff in need of aid for clothing and household goods, electronics, transportation, childcare assistance, temporary housing, school supplies, or meal assistance.
This terrible disaster will not stop the resolve of our Chico State community. Join us in supporting them by donating here. Together, Wildcats will rise.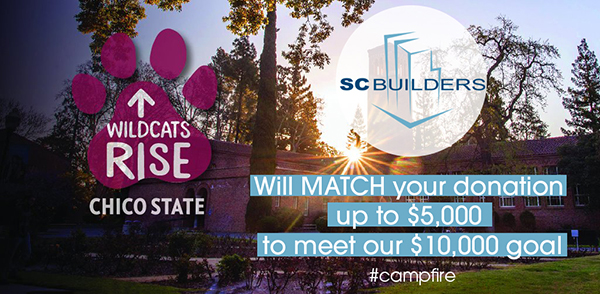 ---
Happy Thanksgiving
November 2018
Frying turkeys at the annual Turkey Feed for our field staff family! And barrels filled to the brim for Sacred Heart Community Service. Our hearts are full—we hope yours are too. Happy Thanksgiving!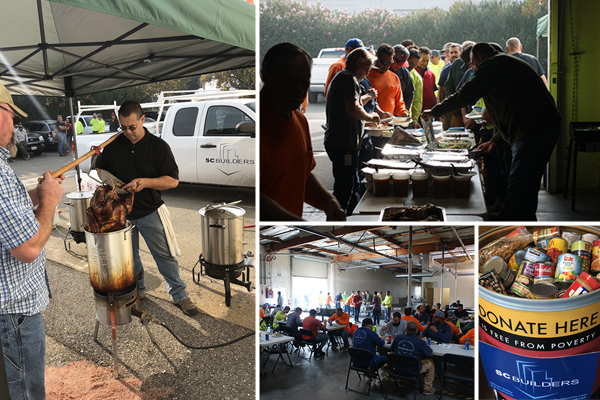 ---
Holiday Giving
November 2018
Our bins are filling up with lightly used coats and canned goods! Help us fill them to the brim! Stop by our Silicon Valley HQ to donate by November 15. Or give online here.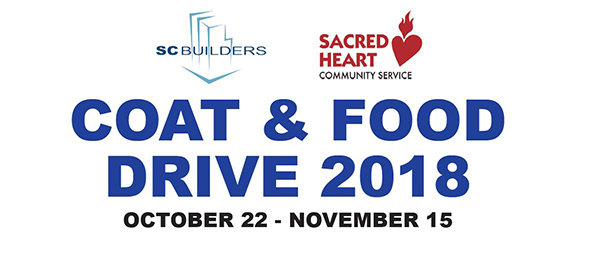 ---
Charity Bocce Tournament
November 2018
Thank you to everyone who came out for our 8th Annual Charity Bocce Tournament! A great time was had by all, and SC Builders was proud to donate to the charities selected by the three winning teams:
1st Place – Anthony Perez, Jeff Watney, Michael Patt, Dustin Johnson: St. Jude Children's Research Hospital
2nd Place – Steve Stenton, Dave Whitney, Samuel Abbey, Jakob Conlan: The ALS Association
3rd Place – Gita Singh, Danielle Kielty, Samantha Wueste, Beth Avon: Operation Smile
---
Halloween Shenanigans
October 2018
Tricks and treats at HQ! Costumes and a pumpkin-themed potluck made for some delicious hocus pocus shenanigans. Have fun, be safe!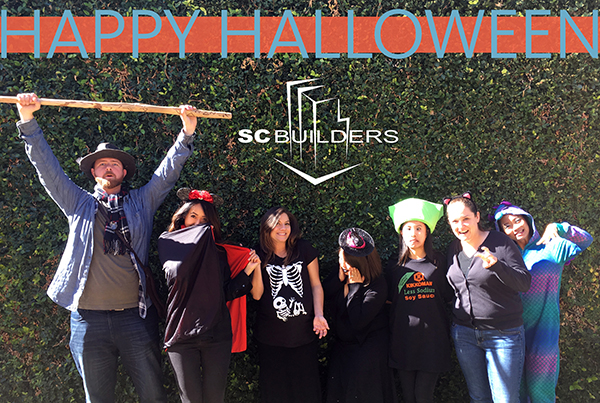 ---
Ground Breaking for Carondelet High School
October 2018
The new STEM Innovation Center at Carondelet High School in Concord, CA will blend creativity and technology to give students a unique and powerful education to prepare them for college and career. We're so proud to be part of this awesome project!
Read more here about the ceremony and the exciting news announced there.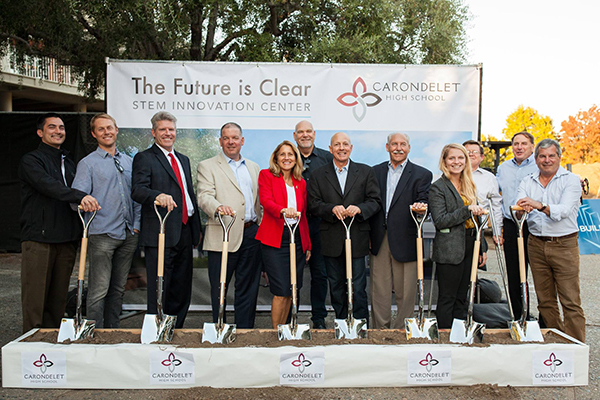 ---
Campus Visits: Start Your Career with Us!
October 2018
SC Builders is invested in the next generation of builders. We recently visited several campuses in the Bay Area and beyond. If we missed you, make sure to reach out so we can connect: vagreafuvcf@fpohvyqrefvap.pbz.
Learn more about our university recruiting and internships program here.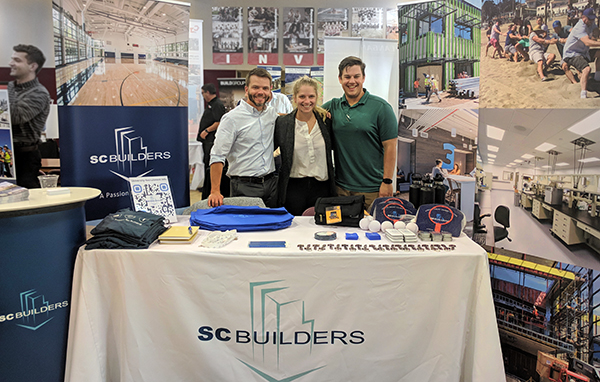 ---
Employee Spotlight: Jennifer Nishita (PE)
October 2018
Meet Project Engineer Jennifer Nishita, who, in 2011, joined SC Builders as a Project Admin. We love that in the video below—from 2014, during her time as a PA—she speaks of the growth opportunities at SC Builders: "It's a growing company: I felt I would be able to grow my career [here]. The opportunity is there with SC Builders."
Jenn did indeed grow her career here. Her diligence, curiosity, and commitment to going the extra mile to exceed clients' expectations earned her a promotion from PA to PE in 2015. She's become indispensable to any team she works on, and is helping SCBI grow Strong, Smart, Unique and Positive.
More about Jenn:
Favorite SC Builders project: Build out of Instagram's headquarters in Menlo Park. It was a challenging project due to the 12-week schedule that included a coffee shop, café, and modular kitchen.
Currently working on: 60,000 sq ft TI for FB
Recent accomplishment: Having a part in securing a seven-building campus project in Fremont
Her 2014 take on growth at SC Builders: You're allowed to wear many different hats here. You're not confined to one role. There's a lot of self-management: no one micromanages you, and you're allowed to grow as much as you want to grow. The opportunities are there if you want to take them.
Learn more about careers at SC Builders on our careers page. Check out our open positions here.
---
Let's Talk Training
October 2018
To keep SC Builders growing Strong, Smart, Unique, and Positive, we strive to develop experiences, trainings, and materials that will directly help in our team's day-to-day jobs.
During one 24-hour period this month, HQ saw three trainings: Foremen safety training, mentorship training (not just for mentors: beneficial for any role!), and the PE's OST training.
---
Baby Boom!
October 2018
There's a baby boom at SC Builders! A baby girl from Mari earlier in 2018, these three—Tara, Samantha, and Cadhla, at their surprise office shower—are due in coming months, and Jordan (PE) soon after. Congratulations to our employees and their growing families. We can't wait to meet the newest members of the SC Builders team.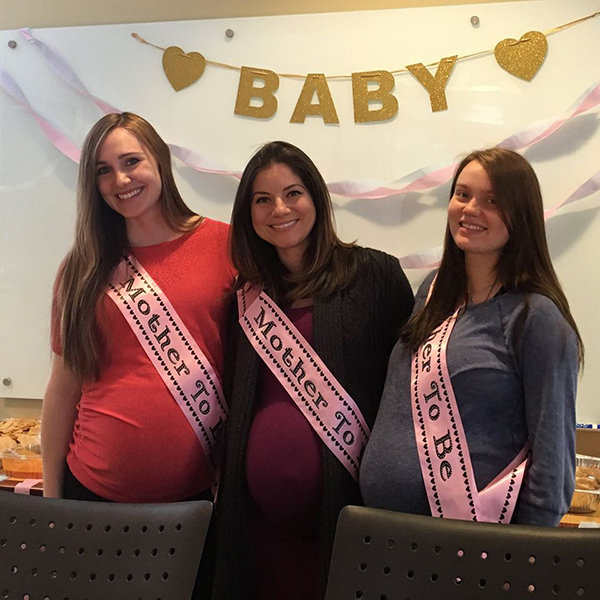 ---
Welcome, New Staff
October 2018
Welcome Casey Antonio (PE), Thomas Barbera (PE), Rudy Del Real (Supt), David Glazier (Supt), and Mike Schutz (PA).
Are you looking for a change? And a challenge? Builders who join our team exhibit leadership, skill, teamwork, humor, and love of building. We're looking for the top 20%: join us!
More info on our careers page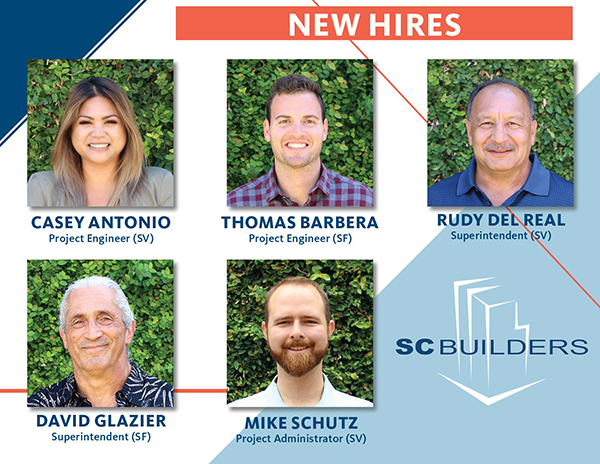 ---
Company Picnic
September 2018
We had a blast at our 2018 Company Picnic! Staff and families enjoyed lunch, games, and unlimited rides and attractions at the Santa Cruz Beach Boardwalk. More photos on our Facebook page.
Want to be part of our picnic next year? Check out our open positions here: bit.ly/scbuildersjobs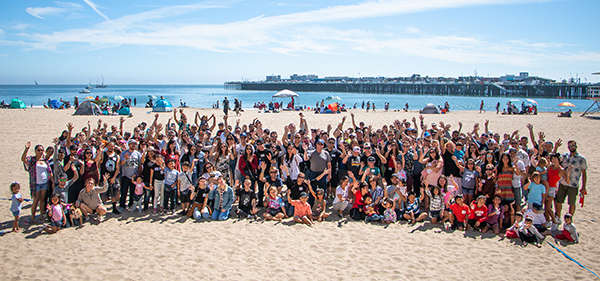 ---
Concrete Pour
September 2018
Everyone loves a concrete pour! Here are a couple cool shots from a recent building foundation pour at an SC Builders confidential tech client, and a panorama a few days after. Thanks to our partners at Bradley Concrete for helping us move this project along.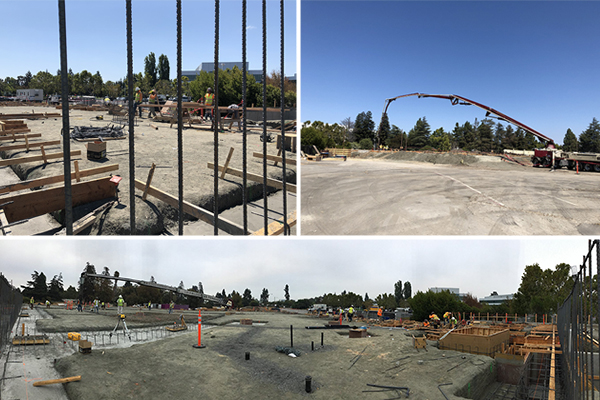 ---
Boys & Girls Clubs of San Francisco
September 2018
Here are Todd and Anthony representing SC Builders at the Boys & Girls Clubs of San Francisco's 45th Annual Golf Tournament at The Olympic Club.
All proceeds from the event directly support academic and college prep programs, ensuring more youth in SF can embark on the next chapter of their lives confidently and successfully.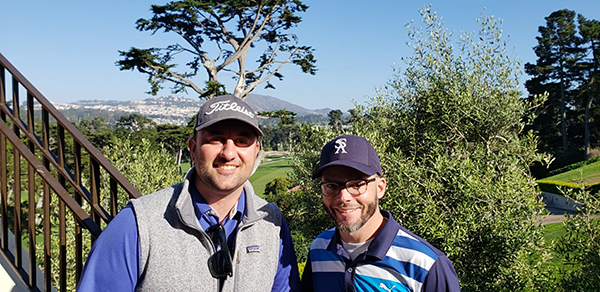 ---
New Hires and a Promotion
August 2018
New team members and a proud promotion! Welcome Ryan and Jakob, and congratulations to Rob!
We continue to grow and are hiring for PMs, PEs and Supers. Learn more on our careers page and apply here.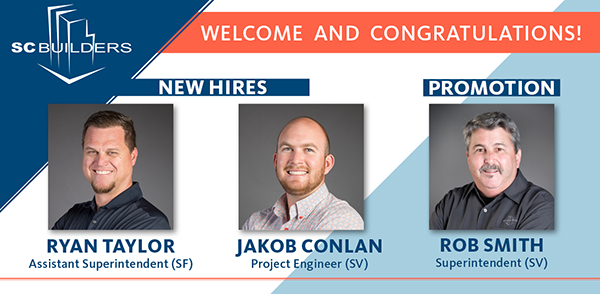 ---
Slack HQ Tour for Cal Poly CM Students
August 2018
In a site tour at Slack's new HQ in SF, SC Builders PEs Eden and Drew brought Cal Poly CM students through both completed floors (Phase 1) and under construction floors (Phase 2) to provide a life cycle understanding of the project, from start to finish.
Students were able to see a variety of areas, from early stages of framing for drywall to fully finished spaces. Discussion included TI project challenges and the amount of coordination required between all stakeholders.
Thanks for joining us, Cal Poly students, and thanks to Professor Philip L. Barlow, PhD (CM Department) for inviting us to host them!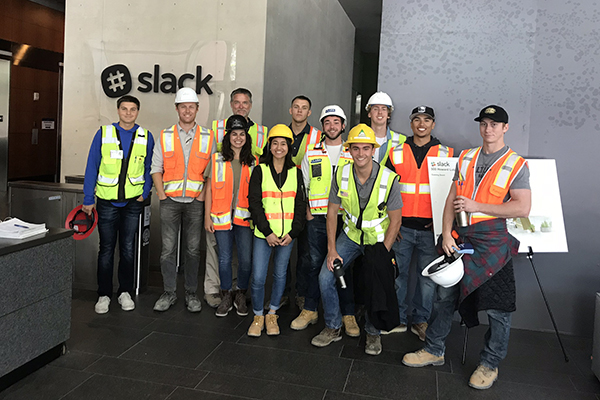 ---

Blood Drive Success
August 2018
Our blood drive through Stanford Blood Center collected 26 units of blood, impacting potentially 78 patients. Plus 11 first time donors! THANK YOU to all participants: both staff and folks from the wider SC Builders family.
---
PE Training: Safety
August 2018
Our Safety Director Mat Guerrero conducted a training for our PEs focused on the importance of safety and how they can—in their functions on each jobsite—play a role in making sure it's top-of-mind for the entire team, from beginning of projects to end.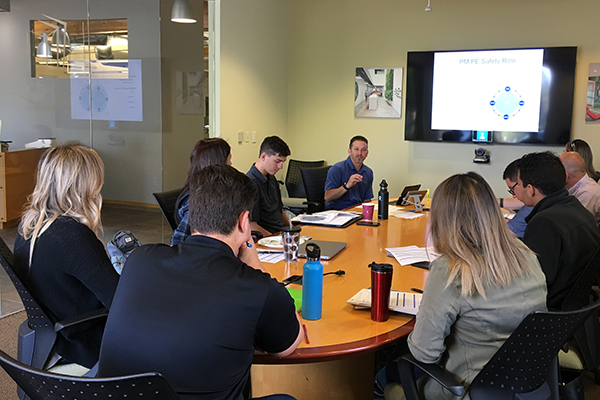 ---
Safety BBQ
July 2018
Thank you to our safety team for all your hard work and dedication! Great grub from Zuc's Frontyard Barbeque to celebrate the whole team's success in working together to maintain a safe job site at SC Builders' tech client.
See more pictures in our FB photo album.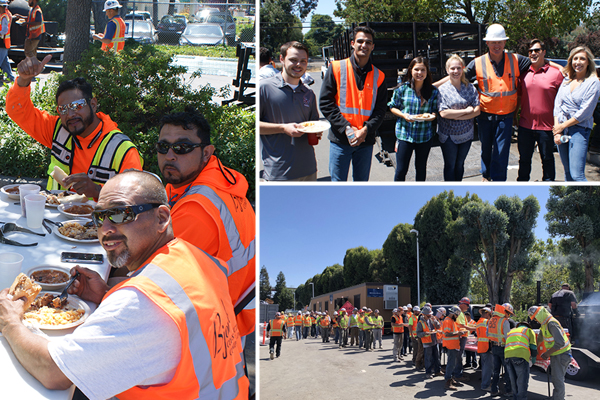 ---
Fourth Annual Playhouse Build
July 2018
We had a blast at our 4th Annual Playhouse Build event with Habitat for Humanity International (South Bay/Silicon Valley Chapter). Their playhouse program is a fun way to give children in the community a place to call their own. In this team building event, we work together to construct children's playhouses:  fabricating the sides, doors, windows, and trim; constructing the roof; and painting each house with its own theme, chosen in advance by the kids who receive the houses. This year's themes: race track, under the sea, mechanic shop/garage, and a lemonade stand.
After assembling the playhouses, the recipients selected from Blue Star Moms—an organization supporting mothers who have loved ones serving in the military—were able to meet the builders who made their children's new special play place! (…which is also special for the builders!)
Thank you to Habitat for making it possible for companies to give back to our communities through events like this.
See more pictures in our FB photo album.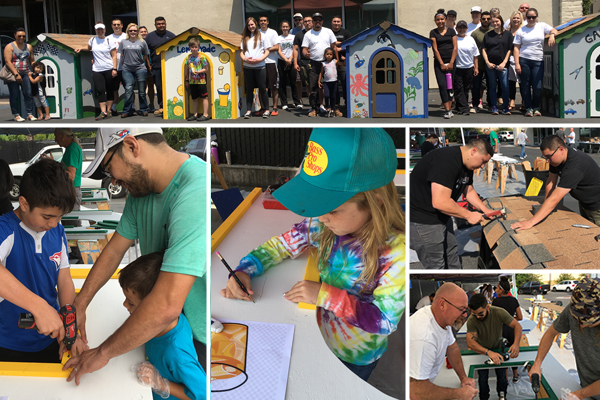 ---
Celebrating Interns
July 2018
Join us in celebrating our 2018 summer interns! Left to right: Will Salady and Domenic Ortisi join us from Chico State, and Gavin Griffin is attending Cal Poly.
They've been on project sites since day one, learning through both office and field experience: hands-on work, mentoring, and classroom training. We're thrilled to have them.
Check out our Q&As with these bright young professionals on our social media, such as Facebook and LinkedIn.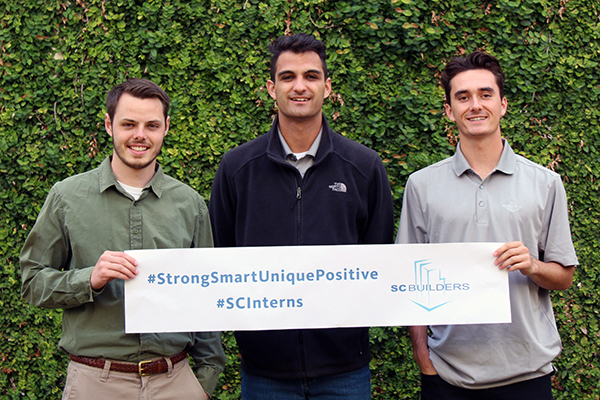 ---
SC Softball: Batter Up!
July 2018
Our softball team this year is enjoying the outdoor activity and comradery with other A/E/C firms in our local league.
(Insider tip: the toddler has a mean curveball.)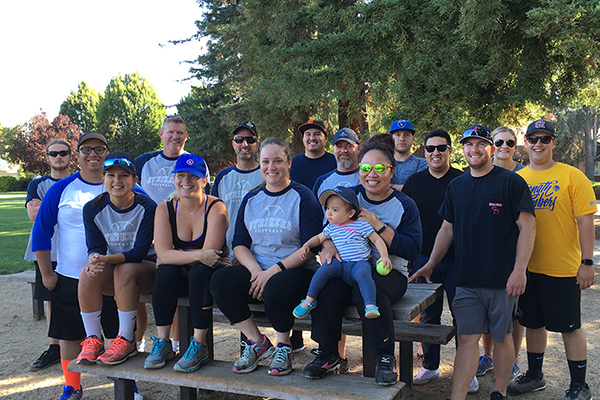 ---
We're Hiring!
July 2018
Strong. Smart. Unique. Positive. If that resonates with you, let's talk. At SC Builders you will be given the authority and resources to excel beyond expectations, and be rewarded for it.
We are elite builders. Our teams are well-oiled machines of smart people who respect each other—and we're looking for awesome people to join us. We're growing in both our Silicon Valley headquarters in Sunnyvale as well as our San Francisco offices.
We're currently looking for:
Project Manager (SV & SF): http://bit.ly/SCConstPM
Superintendent (SV & SF): http://bit.ly/SCSuper
Project Engineer (SV & SF): http://bit.ly/SCProjEng
Project Administrator (SV): http://bit.ly/SCProjAdmin
Accounting Specialist (SV): http://bit.ly/SCAcctSpc
ALL jobs listed here: http://bit.ly/scbuildersjobs
Want to be personally responsible for making a "raving fan" out of every client? Join us!
More about careers with SC Builders here.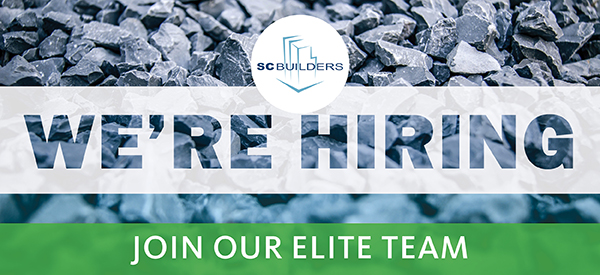 ---
Giving Back: Day on the Beach with Shared Adventures
July 2018
The non-profit Shared Adventures offers a year-round calendar of recreational events for people with disabilities in Santa Cruz County. They believe that recreation, fun, challenge, and access to the outdoors are essential to health and fulfillment.
SC Builders was so PROUD to have supported their biggest event of the year on July 14: Day at the Beach. Our carpenters and other staff helped to construct platforms over Cowell's Beach using over 200 sheets of plywood creating an all accessible festival. Pathways of plywood were also constructed so that participants with special needs could access the ocean for assisted activities such as kayak, outrigger canoe, scuba diving, and beach wheelchair rides.
From Shared Adventures founder Foster Andersen: "Now in its 26th year, [the Annual Day on the Beach event] was another amazing day of beautiful weather, awesome volunteers and so many first time participants with their families or care providers.
Thanks so much to all who made it such a great day!"
More about Shared Adventures: https://www.sharedadventures.org/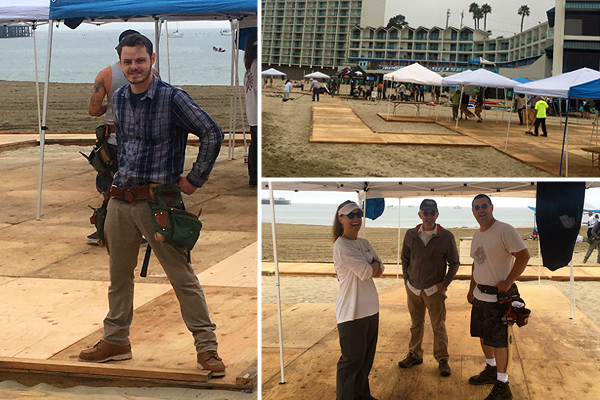 ---
Donate Blood: July 19
July 2018
SC Builders is partnering with Stanford Blood Center for a blood drive at our Sunnyvale headquarters on July 19, 2018. Are you able to join us? To donate, please sign up by emailing Tara Flores.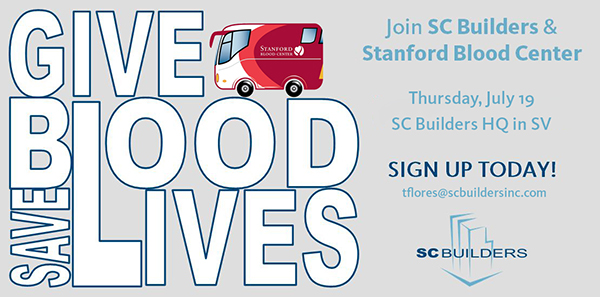 ---
Recent New Hires and Promotions
June 2018
It's been a busy few months! We're excited to announce new members of our team and a couple awesome promotions. Welcome Matthew Carr, Samantha Wueste, and Anna Black, and congratulations to Florence McGee and Jason Walden!
As we continue to grow, we're hiring for PMs, PEs, and Supers. Learn about careers at SC Builders here.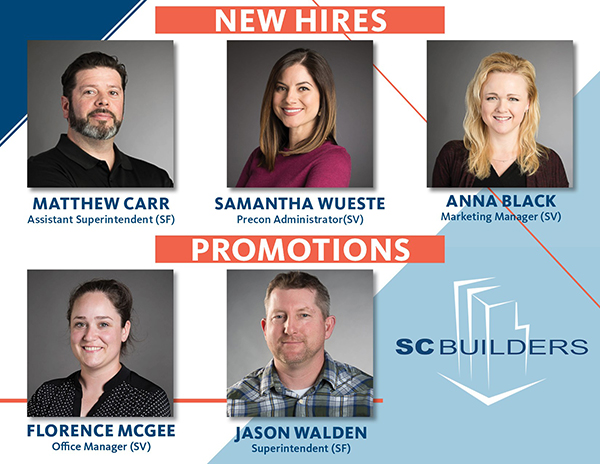 ---
Safety Week
May 2018
In trailer, building, or yard: crew safety learning is key! SC Builders marked the North American Occupational Safety and Health Week, and all SC Builders projects participated in as OSHA's 2018 National Safety Stand-Down. Whether we're working with subcontractors or our clients, we're united by one goal: safety.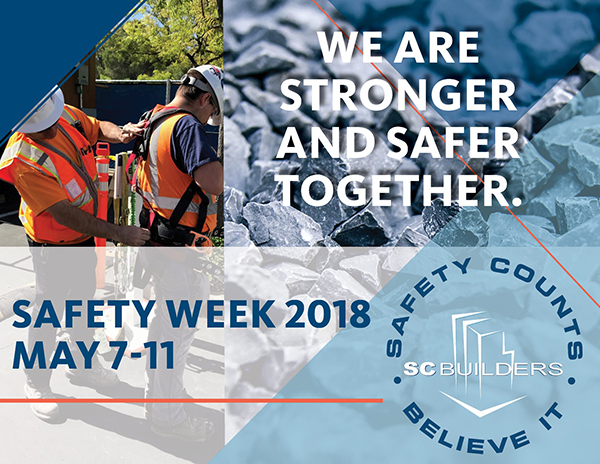 ---
Second Annual Corn Hole Tournament in SF!
May 2018
Last year's San Francisco client event—a cornhole tourney at wine tasting venue Tank 18—was such a success, we returned this year. About 40 thirsty attendees turned out for a fun afternoon!
The final round pitted SC Builders guys Steve and Anthony vs Bryce and Vaughan from Nova Partners, Inc. Congratulations to the winning team from Nova, who took home some sweet trophies, SC swag, and wine.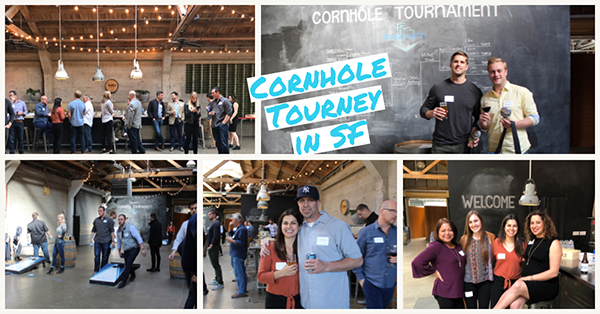 ---
Game Show Extravaganza
April 2018
We enjoyed a fun afternoon of games at our team building event at Sunnyvale HQ: tons of trivia as well as "la la" singing, cup stacking, thumb warring, and tinker toy tower building. Let's hear it for teamwork!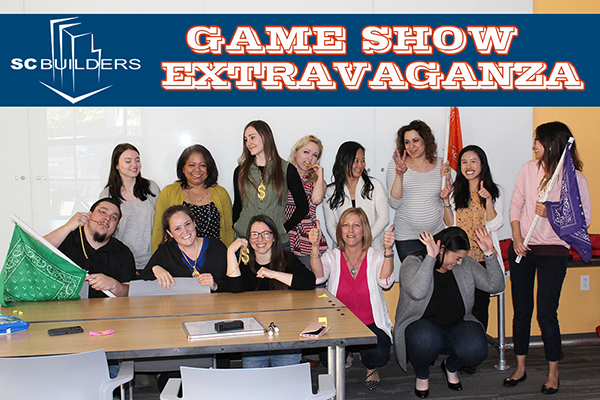 ---
Giving Back Gratitude: Boy Scouts
April 2018
It's always a great day when you get a thank you note with eight crayon signatures. SC Builders contributed to a summer camp fundraising event for Troop 455: SC Superintendent Dave Rule's son's troop.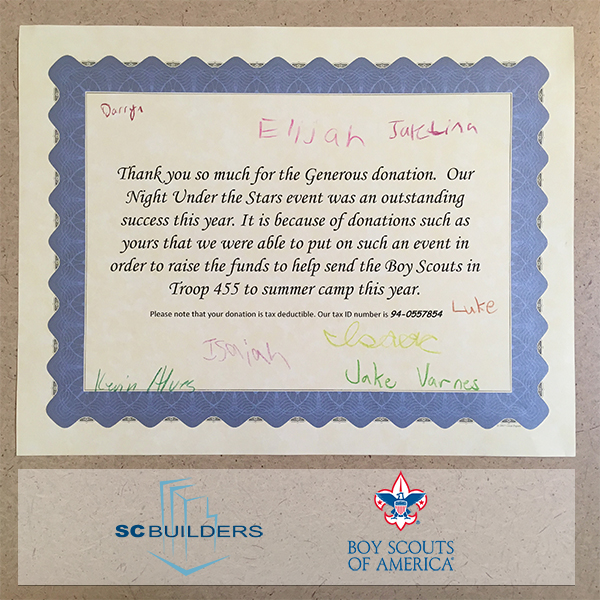 ---
Field Crew Safety Training
March 2018
Safety Counts: Believe It! SC Builders held a First Aid, CPR, and AED training for our Field Craft.

---

SCBI Sponsors ASC Student Competition
March 2018
SC Builders was proud to sponsor the 2018 Associated Schools of Construction (ASC) Student Competition (Regions 6 & 7) in Reno. We were particularly proud of our Chico State team which won FIRST PLACE in the Commercial Division. Congratulations, team! We had a great time working with you and were blown away by the way you handled yourselves in the interview portion of the contest. Well done!
Great work was also completed by the two other teams we supported, from Cal Poly SLO (PreCon Division) and Santa Clara University, who took 2nd Place in the Mixed-Use Division!
"Working with SC Builders to prepare for the ASC Competition was an absolute pleasure, and we are very grateful for our industry sponsors," said Mitchell Trieloff, from the Chico team. "The support and training we received from industry sponsors such as SC Builders strongly complements our in-class curriculum, provides an invaluable experience for our team, and directly contributed to our performance in Reno. Thanks, SC Builders! The Chico Commercial Team looks forward to bringing home another win next year."
ASC represents construction educators and industry practitioners working together to advance construction education.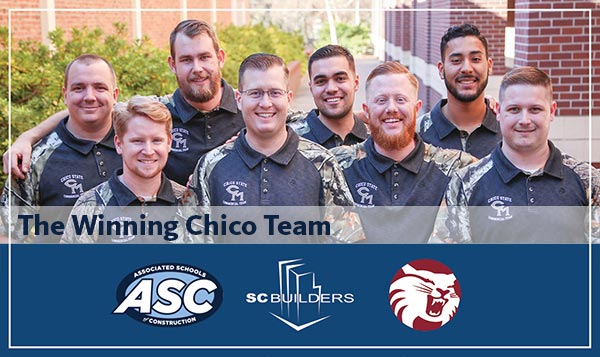 ---
SC Builders' newest team members
January 2018