Meet Project Manager Jennifer Nishita, who is currently killing it over on the Facebook Farm Campus in Fremont. After joining SC Builders in 2011 as a Project Administrator, Jenn's diligence, inquisitiveness, and commitment to going the extra mile earned her promotions to PE and, recently, to Project Manager. She's become indispensable to any team she works on, and is helping SCBI grow Strong, Smart, Unique, and Positive.
A few favorite SC projects:
Xilinx Building 3 TI, San Jose
Instagram HQ, Menlo Park – her favorite project because "it was the toughest project I've ever worked on."
Facebook: Dumbarton Campus, Fremont
(More about Jenn here!)
The culture at SC is like its employees: it has that "something extra" that is hard to explain but you know it when you see it. They are open to new ideas and want to give their employees the tools that will help them be as efficient as possible. I stay at SC Builders because I feel like I am a part of the company and that I have a voice here.
---
What do you love about construction?
I love the fast pace and that every day is something different. You can actually see the end result of your hard work. I love seeing clients walking through their new space and smiling, and knowing that I had a part in making this happen.
How do you measure success?
I measure my success by growth. Have I grown as a person? Have I worked on weaknesses in my personal and professional life? Am I happier now than I was a year ago?
What excites you about construction in this area, for these clients?
It's exciting working for clients that you know, or use their products on a daily basis. The speed of these projects is also exciting. I love working on projects that have "impossible schedules" and hitting the completion date.
---
I'm proud to work at SC Builders because I believe in the company. I believe in the culture and vision. SC does not spout empty words: they mean what they say and it shows. I think it's rare to find a company you genuinely feel a part of. They want to be the best, have the best employees, give the best to their employees, and deliver the best service to their clients.
---
Quick Q&A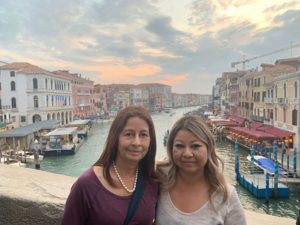 Favorite part of the job – Seeing the finished product
Words to live by – Everything happens for a reason
If you could tell your teenage self one thing, what would it be? Don't be in a hurry to grow up, enjoy your summer vacations!
Favorite tradition – Making tamales at Christmas
Would rather be doing – Laying on the beach, staring at the ocean

Best piece of advice you've received – Don't compare yourself to others. If you are happy with where you are in life, that is what matters.
On your bookshelf – Chrissy Teigen cook books
Work theme song – The Office theme song