In alignment with SC Builders' Vision—"Give back to the community through volunteering time, money, and resources"—we celebrate #GivingTuesday! We recently enjoyed our eighth year participating in the Big Bike Build with Turning Wheels for Kids.
Did you know that according to social workers, bikes are the #1 most requested holiday gift by children? Our team of 9 built about 40 bikes, joining 1,000+ community volunteers to assemble 2,500+ bikes for various local charity organizations. Thank you to our team for donating their time to a terrific cause.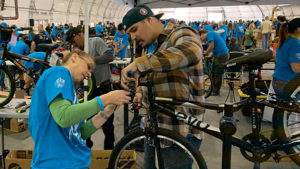 Learn more about our community efforts here.