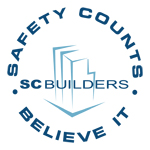 "Safety isn't about talking the talk, but walking the walk." Great to hear from our staff during Safety Month about what motivates them to make safe choices.
Below find answers from:
Bevedine Cosey, Project Engineer
Jose Rosales, Project Engineer
Kevin Brittner, Superintendent
Brad Ruiz, Field Safety Supervisor
Tiffany Soto, Accounting Specialist
Michael McCullagh, Superintendent
Mike Morelli, Superintendent
Todd Merrill, Preconstruction Project Manager
Tanner Janich,. Project Engineer
Samuel Reyes, Superintendent
Marshal Mariucci, Project Engineer
Joey Papangellin, Project Engineer
Don LaHood, Senior Superintendent
We are stronger and safer together!